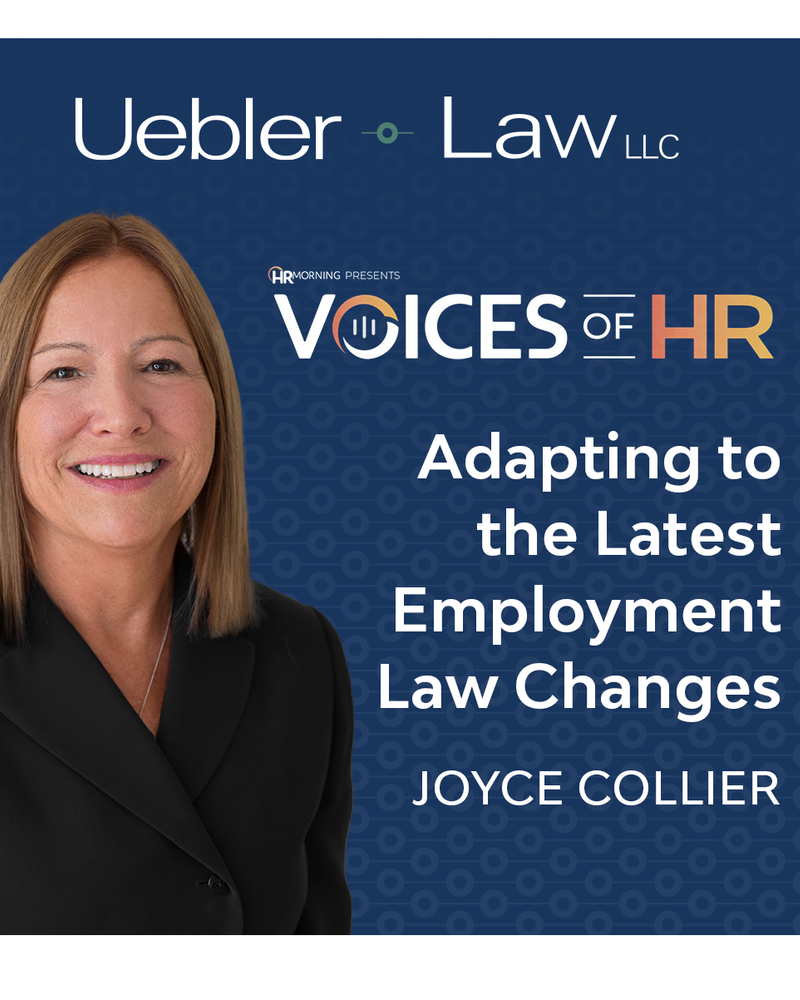 Collier Shares Impactful Employment Law Changes on HR Podcast
Malvern, PA – Uebler Law partner Joyce L. Collier urged HR professionals to pay attention to recent changes in employment law that could have a big impact on their companies and employees. As a featured guest on the Voices of HR podcast with host Berta Aldrich, Collier brought listeners up to speed about impending legislation and other changes designed to protect women, the differently abled, and other protected categories of employees in the workplace.
"From the 30,000-foot view, this is not just about being afraid of a lawsuit," explained Collier during the interview. "It's about providing dignity and respect in the workplace and viewing [employees] as human beings rather than commodities."
On the podcast, she discussed topics ranging from sexual harassment to pregnancy and women returning to work after the birth or adoption of a child. Collier clarified the use of AI in candidate screening as it relates to Title VII, and reviewed policies on mental and physical health and confidentiality. She also tackled the Equal Pay Act in New Jersey which allows pay transparency.
Other topics explored during the show included:
Upcoming changes to the Pregnant Workers Fairness Act
Providing Urgent Maternal Protections (PUMP) for Nursing Mothers Act
The Speak Out Act
Sexual harassment training
A federal ban on forced arbitration for complaints of sexual assault or harassment
The FTC proposed rule banning non-compete agreements and the pending Groff v. DeJoy Supreme Court decision
Employee health info and the ADA
Healthy workplace bills
State pay transparency laws
The podcast can be found on a number of platforms, including Apple, Spotify, and YouTube.
Collier brings over 30 years of experience as a trial lawyer in state and federal court in Pennsylvania and New Jersey. She's advocated for victims of sexual harassment, retaliation, and wage theft. She has held companies accountable for violations of employment and compliance policies, and state and federal law. She's also represented employers in helping them avoid litigation by writing policies and handbooks, as well as conducting audits and compliance seminars.
She graduated with honors from Rutgers School of Law, receiving the Most Promising Civil Litigator award. She clerked for the Honorable Justice Robert Clifford of the New Jersey Supreme Court and has been named a Pennsylvania Super Lawyer 10 years running. She has also served as an adjunct law professor at Rutgers School of Law, Camden in the area of disability law.
Uebler Law provides advice and negotiation to individuals in Pennsylvania and New Jersey seeking to protect their rights or maximize their employment opportunities in the workplace. When needed, the firm levels the playing field through litigation of claims to pursue justice for individuals and hold employers accountable for violating workers' rights. For more information, visit ueblerlaw.com. Results may vary depending on your particular facts and legal circumstances.