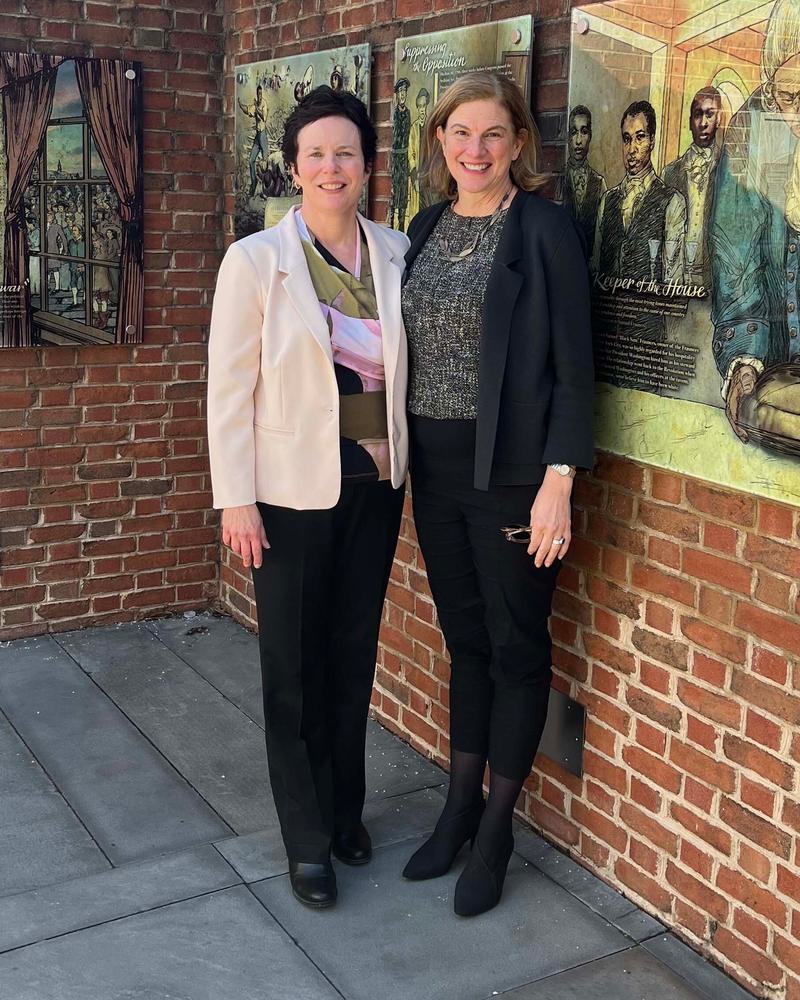 Philadelphia Jury Hits University of Pennsylvania with $1 Million Verdict for Retaliation in Denied Tenure Case
Feb 15, 2023
Philadelphia, February 14, 2023 – Julie A. Uebler, Esquire of Uebler Law LLC in Malvern, Pennsylvania won a unanimous jury verdict in federal court against the University of Pennsylvania on behalf of Cathrine Veikos, a former Assistant Professor of Architecture, for denying her application for tenure in retaliation for her complaints of discrimination based on her gender and status as a mother. Ms. Uebler was assisted at trial by paralegal Julie A. Brook.
The verdict was rendered on February 10, 2023, after seven days of trial and two full days of jury deliberations. The case was pending in the United States District Court for the Eastern District of Pennsylvania before the Honorable Joshua D. Wolson. The jury found the University of Pennsylvania liable for $1 million in compensatory damages for its violation of Professor Veikos' civil rights in denying her tenure in 2012. Judge Wolson will decide the appropriate amount of back pay and front pay damages. Professor Veikos will also seek reimbursement for her attorneys' fees and costs, which are available to a prevailing plaintiff under the applicable civil rights statutes.
Cathrine Veikos worked for Penn as an Assistant Professor in the Architecture Department, which is part of Penn's Weitzman School of Design. When Penn denied her application for tenure in 2011, Professor Veikos submitted an internal complaint to the Dean raising concerns that the tenure denial was motivated by gender bias and her status as a mother, including the fact that she had taken an extension of the tenure probationary period after the birth of her son. According to Penn's own "family-friendly" policy relating to the extension of the tenure probationary period, the Department Chair is required to notify external reviewers in a candidate's tenure case of the extension "so that the candidate is not penalized for having received the extension." In Professor Veikos' case, the Department Chair at the time failed to comply with Penn's own policy.
After Professor Veikos complained about the initial tenure review, Penn conducted a "re-review" of her tenure case in the following year, purportedly to give her a clean slate and a fair process.
At trial, Professor Veikos argued that the re-review process was just Penn's attempt to defend itself against her discrimination claims, and that it was tainted by retaliatory bias. In its verdict, the jury agreed that Penn denied Professor Veikos' re-review application for tenure in retaliation for her complaints of discrimination.
At trial, Penn relied on the contents of confidential letters from external reviewers who opined on Professor Veikos' tenure case to claim she was not qualified for tenure. Unfortunately, tenure candidates at Penn (as with other schools across the country) are typically denied access to those letters absent litigation. Ms. Uebler and Professor Veikos hope that their efforts to bring Penn's actions to light in a public trial will encourage other tenure candidates who believe they have been denied tenure for discriminatory reasons to enforce their civil rights despite the procedural obstacles.
According to Ms. Uebler: "Tenure denial decisions have historically been difficult to challenge in court for several reasons: the secrecy of the process; the courts' reluctance to second-guess decisions about a candidate's qualifications; and the sheer complexity of the tenure process, which is hard for a jury to understand. In this case, we were very encouraged by the jury's focus for seven full days of trial and their willingness to spend two full days in deliberations to reach their verdict."
---
About Uebler Law LLC
Uebler Law LLC is an employment rights law firm devoted to protecting and enforcing the civil rights of individual employees throughout Pennsylvania. Visit ueblerlaw.com for more information.
Results may vary depending on your particular facts and legal circumstances.